P is for Photography, a passion of mine!
My father in law to be bought us a DSLR 2 years ago and I have turned into a bit of a photography geek! I love taking photos that capture a moment! That moment could be my children sharing their toys, a calf being born on the farm of Rich doing the dishes (that is a rare thing in our house!!)
So I was wondering who fancied joining me in a bit of a challenge? Each week on a Tuesday I am going to post a photo from the previous 7 days where I have captured a moment. I will explain about the photo and why I have picked it and hopefully it will encourage me to pick up my camera a bit more often than I do at the moment!! So who is up for it????
Here is my photo
I took this photo in my garden one morning this week. We had moved the calves from a little paddock into the big field for the first time and the next morning when I got up and opened the curtains I found them all in my garden!!! Its the joys of living on a farm :0)
I look forward to seeing the moments you have captured every week!!
Oh and while you capture a moment, why not capture my badge too?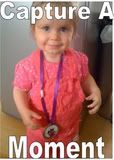 <a href="http://cancerandbabyequalschaos.blogspot.com" target="_blank"><img src="http://i187.photobucket.com/albums/x24/ilovebaalambs/Captureamoment.jpg" border="0" alt="Photobucket"></a>